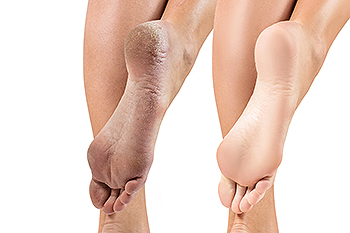 Cracks in the heels are much less likely to happen in children compared to adults. Children's skin is more tender and less likely to be impacted by mechanical factors. However, there are some instances where children will get cracks in their heels, and this is usually when there is interference with metabolic or hormonal processes causing skin disturbances. The heels are often affected under these circumstances since the feet take on the burden of the weight of the body. Cracked heels can occur in children from stress, neuro-psychic changes, or insufficient nutrition, particularly vitamin deficiencies. Vitamins A and E normalize metabolic processes, remove toxins, and positively affect the condition of skin. Transition periods can be associated with cracks in the heels, such as beginning school, during adolescence, or a family disturbance, periods that often come with increased stress. Since more serious complications can arise from cracked skin on the heels, it is suggested you take your child to a podiatrist for an examination and treatment.
If the skin on your feet starts to crack, you may want to see a podiatrist to find treatment. If you have any concerns, contact Dr. Douglas Mckay from New Jersey . Our doctor can provide the care you need to keep you pain-free and on your feet.
Cracked Heels
It is important to moisturize your cracked heels in order to prevent pain, bleeding, and infection. The reason cracked heels form is because the skin on the foot is too dry to support the immense pressure placed on them. When the foot expands, the dry skin on the foot begins to split.
Ways to Help Heal Them
Invest in a good foot cream
Try Using Petroleum Jelly
Ease up on Soaps
Drink Plenty of Water
Ways to Prevent Cracked Heels
Moisturize After Showering
Skip a Shower
Keep Shower Water Lukewarm
Don't Scrub Your Feet
If you are unsure how to proceed in treating cracked heels, seek guidance from a podiatrist. Your doctor will help you with any questions or information you may need. 
If you have any questions, please feel free to contact one of our offices located in Caldwell, and Galloway, NJ . We offer the newest diagnostic and treatment technologies for all your foot care needs.
Read more about Solutions for Cracked Heels