Podiatrist in Galloway, NJ 08205 & Caldwell, NJ 07006
Douglas McKay, DPM, FACFAS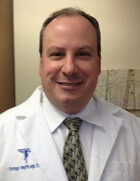 Douglas McKay, DPM
Dr. Douglas McKay DPM grew up in Livingston, New Jersey and graduated from Livingston High School in 1988. He completed his undergraduate education at the University of Colorado at Boulder in 1992 with a B.A. in Economics. After a year of research at Newark Beth Israel Hospital, Thoracic surgery Dept, A Doctorate of Podiatric Medicine was achieved at NYCPM in 1997.
Podiatric Surgerical and Podiatric Medical residencies were completed at Staten Island University Hospital and Metropolitan Hospital in New York City from 1997-1999.
Certified Foot Doctor
He is board certified by ABFAS in foot surgery and holds a license in New Jersey. New Jersey Monthly Magazine Top Doctor 2013 and 2015.
With over 20+ years of experience, Dr. McKay utilizes all the latest technologies in treating all foot and ankle ailments and is in the forefront of lower extremity wound care. Served as Medical Director of Passaic Beth Israel Wound Center where he was the first Podiatrist in New Jersey to incorporate Hyperbaric Oxygen treatments in Diabetic Foot wounds.
Come Visit Out Foot Doctor in Galloway and Caldwell, New Jersey!
We accept most insurance plans and welcome new patients! Call today and get back on your feet! Galloway, NJ (609) 650-1165 and Caldwell (973) 228-5042.