Tuesday, 19 July 2022 00:00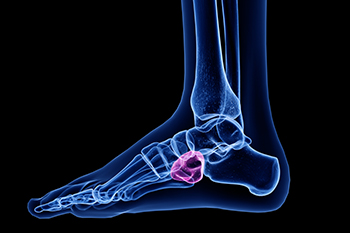 One common foot affliction that can cause serious pain is known as cuboid syndrome. This condition causes pain primarily on the outer area of the foot, termed lateral foot pain. Cuboid syndrome occurs when the cuboid bone, a particularly small bone on the outside of the foot, dislocates. This dislocation can be caused either by ankle sprains or repeated trauma on the peroneus longus muscle. There are a number of symptoms that you may experience when you develop cuboid syndrome. In addition to lateral foot pain, you may notice yourself limping when you walk. Limping is common for people experiencing cuboid syndrome, because it indicates that the person is attempting to avoid walking on the cuboid bone. In addition, those suffering from cuboid syndrome might experience swelling and tenderness in the dislocated bone. Although symptoms can vary from patient to patient, you might also experience a feeling of weakness in the entire foot. This weakness can be most pronounced when beginning to jump or run. Cuboid syndrome can detrimentally affect the health of your feet and your lifestyle. It is suggested that you seek the help of a podiatrist to mitigate the pain and treat the condition.
Cuboid syndrome, also known as cuboid subluxation, occurs when the joints and ligaments near the cuboid bone in the foot become torn. If you have cuboid syndrome, consult with Dr. Douglas Mckay from New Jersey . Our doctor will assess your condition and provide you with quality foot and ankle treatment.
Cuboid syndrome is a common cause of lateral foot pain, which is pain on the outside of the foot. The condition may happen suddenly due to an ankle sprain, or it may develop slowly overtime from repetitive tension through the bone and surrounding structures.
Causes
The most common causes of cuboid syndrome include:
Injury – The most common cause of this ailment is an ankle sprain.
Repetitive Strain – Tension placed through the peroneus longus muscle from repetitive activities such as jumping and running may cause excessive traction on the bone causing it to sublux.
Altered Foot Biomechanics – Most people suffering from cuboid subluxation have flat feet.
Symptoms
A common symptom of cuboid syndrome is pain along the outside of the foot which can be felt in the ankle and toes. This pain may create walking difficulties and may cause those with the condition to walk with a limp.
Diagnosis
Diagnosis of cuboid syndrome is often difficult, and it is often misdiagnosed. X-rays, MRIs and CT scans often fail to properly show the cuboid subluxation. Although there isn't a specific test used to diagnose cuboid syndrome, your podiatrist will usually check if pain is felt while pressing firmly on the cuboid bone of your foot.
Treatment
Just as the range of causes varies widely, so do treatments. Some more common treatments are ice therapy, rest, exercise, taping, and orthotics.
If you have any questions, please feel free to contact one of our offices located in Caldwell, and Galloway, NJ . We offer the newest diagnostic and treatment technologies for all your foot care needs.
Read more about Cuboid Syndrome
Tuesday, 12 July 2022 00:00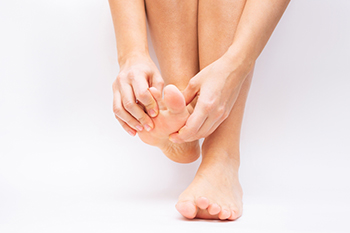 The foot has 30 ligaments, five of which connect the long bones of the midfoot (metatarsals) to the toes (phalanges). The ligaments form a capsule around the joint, helping it to work properly when you walk, run, or jump. When such a ligament becomes inflamed, it causes a pain called capsulitis. The most common form of this condition occurs in the second toe, often the result of a bunion, a longer second toe, flat feet, or low arches. It is sometimes mistaken for Morton's neuroma, but that is a separate condition that affects the nerves. Capsulitis of the second toe is progressive and worsens over time, usually because of genetics or overuse. Long-term wearing of high heels may also have contributed to this. A podiatrist can examine your foot to detect the source of the pain using an X-ray and manipulation of the affected area. Conservative treatments, such as ice, rest, medication, and orthotics may be recommended. Changing footwear, taping, and splinting can also help. If these methods are not effective, or if your condition is particularly advanced, surgery may be another option.
Toe pain can disrupt your daily activities. If you have any concerns, contact Dr. Douglas Mckay of New Jersey . Our doctor can provide the care you need to keep you pain-free and on your feet.
What Causes Toe Pain?
Most severe toe pain is caused due to a sports injury, trauma from dropping something heavy on the toe, or bumping into something rigid. Other problems can develop over time for various reasons.
Toe pain can be caused by one or more ailments. The most common include:
Trauma
Sports injury
Wearing shoes that are too tight
Arthritis
Gout
Corns and calluses
Hammertoe
Bunions
Blisters
Ingrown toenails
Sprains
Fractures (broken bones)
Dislocations
When to See a Podiatrist
Severe pain
Persistent pain that lasts more than a week
Signs of infection
Continued swelling
Pain that prevents walking
Diagnosis
In many cases the cause of toe pain is obvious, but in others, a podiatrist may want to use more advanced methods to determine the problem. These can range from simple visual inspections and sensation tests to X-rays and MRI scans. Prior medical history, family medical history, and any recent physical traumatic events will all be taken into consideration for a proper diagnosis.
Treatment
Treatments for toe pain and injuries vary and may include shoe inserts, padding, taping, medicines, injections, and in some cases, surgery. If you believe that you have broken a toe, please see a podiatrist as soon as possible.
If you have any questions please feel free to contact one of our offices located in Caldwell, and Galloway, NJ . We offer the newest diagnostic tools and technology to treat your foot and ankle needs.
Read more about Toe Pain
More...